A new era of space exploration has begun, and with it a new rocket designed to launch humans to the Moon, Mars, and beyond. Take a closer look at the upcoming Artemis I flight, a mission that will pave the way for future lunar exploration, in our newest blog series.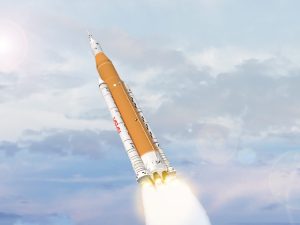 This week, we are exploring NASA's Space Launch System (SLS), the most powerful rocket in the world.
A Rocket to Rival All Others
The Artemis I mission will be the first integrated test flight for NASA's SLS, Orion, and the Exploration Ground Systems. It will make sure all systems are a "go" for future crewed exploration missions to the Moon.
The SLS is preparing for its fast-approaching debut with the upcoming Artemis I flight.
This rocket will return astronauts to the lunar surface by 2024, and propel humans farther into deep space, to Mars and beyond! To do that, you need a powerful rocket. That's why NASA designed and developed the SLS to be even more mighty than Apollo's Saturn V.
The SLS is NASA's exploration class rocket, and it has been carefully crafted to go farther, faster, carry heavier payloads, and travel to more destinations than ever before.
Artemis I – The Block 1 Configuration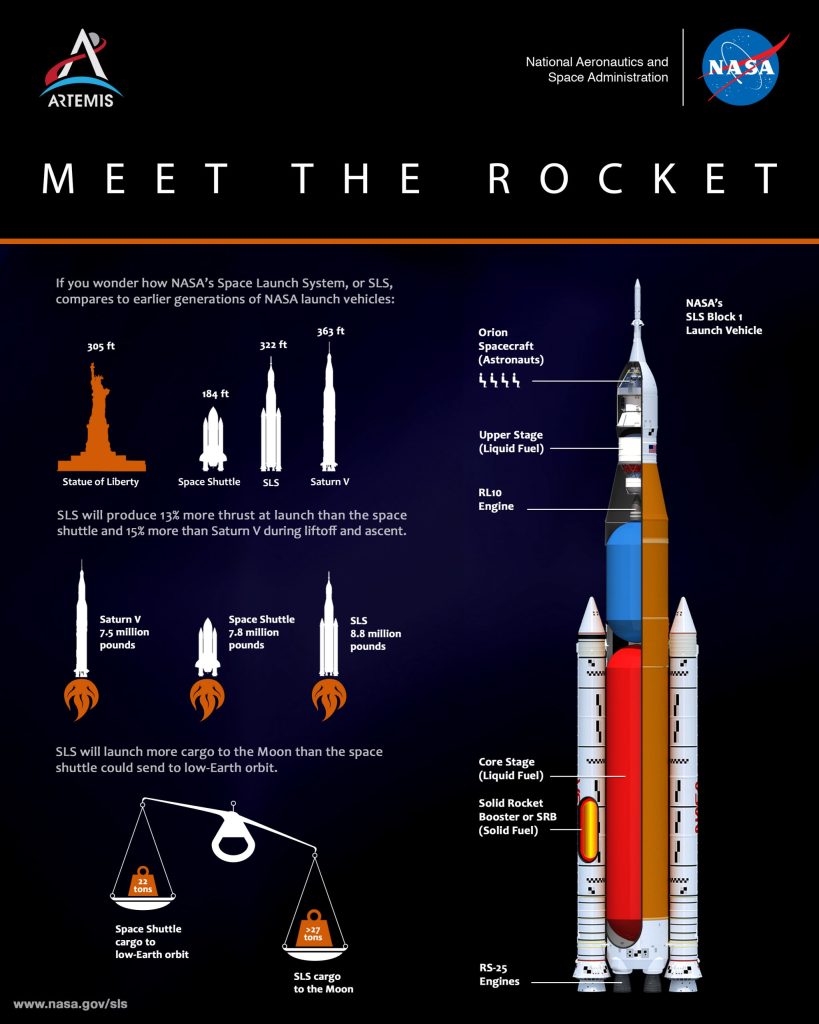 NASA's SLS is designed to evolve into more powerful configurations as the missions demand. According to NASA, all SLS configurations will similarly utilize a core stage with four RS-25 engines. For the Artemis I flight, NASA will use the Block 1 configuration, which can launch over 59,500 pounds to the Moon and beyond!
The Block 1 configuration uses twin solid rocket boosters and an Interim Cryogenic Propulsion Stage (ICPS). The ICPS will be used for the first three Artemis missions. Later Artemis flights will use a mightier Exploration Upper Stage (EUS).
When it launches from Kennedy Space Center in Florida, the solid rocket boosters and RS-25 engines will propel the SLS into space, with the uncrewed Orion capsule atop.
Approximately two minutes after launch, the solid rocket boosters will be spent and released. Then, at eight minutes after launch, the core stage will separate after its fuel is used up.
However, Orion will still need a boost to get to the Moon. That's where the ICPS comes in.
It will fire one RL10 engine to propel Orion toward the Moon and out of low-Earth orbit (LEO). Immediately after this burn, the ICPS will separate from Orion and will trail behind the capsule on a similar trajectory, releasing several CubeSats (small satellites) along the journey to investigate the Moon and beyond.
Quick Facts