A new era of space exploration has begun, and with it a new spacecraft designed to carry humans where we have never gone before. Take a closer look at the upcoming Artemis I flight, a mission that will pave the way for future lunar exploration, in our newest blog series.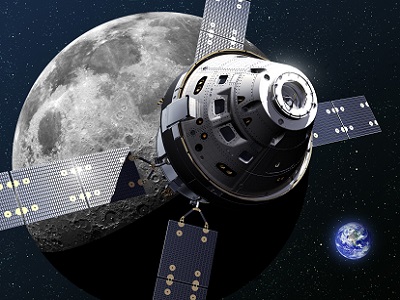 This week, we are exploring Orion, NASA's next generation spacecraft.
About the spacecraft
Named after the constellation, Orion will carry a crew of four space explorers to worlds we have yet to set foot on.
Of course, Orion's first test with Artemis I will involve going where we have already been – the Moon.
According to NASA, Orion was designed to be the safest and most advanced space capsule ever constructed. Since the upcoming mission is an uncrewed flight, this time around Orion will fly sans space explorers.
The Orion spacecraft is comprised of three main parts:
A Launch Abort System which sits above the crew capsule and is designed to pull the crew to safety should something go wrong during launch.
The Crew Module which will serve to transport and house a crew of four.
The Service Module which will support the Crew Module, providing propulsion, life support systems, power support, temperature control, and cargo storage.

Launching the spacecraft
Orion will launch atop NASA's Space Launch System (SLS), the most powerful rocket NASA has ever built, from the space agency's new spaceport at Kennedy Space Center in Cape Canaveral, Florida. The spacecraft will journey farther than any human spacecraft has gone before, traveling thousands of miles further than the Moon, for a three-week mission.
While Orion has undergone extensive testing, its true test will come with the launch of Artemis I. Later this year, Artemis I will launch Orion into space where its core capabilities from liftoff to reentry will be evaluated.
NASA's next generation spacecraft is preparing to go where no human spacecraft has gone before, so that very soon, humans will again be exploring the Moon, and eventually Mars and beyond.