Forty-three years ago, on Aug. 12, 1977, Enterprise took the next giant leap in NASA's space shuttle Approach and Landing Test (ALT) program: free-flight.
Earlier that year, Enterprise, NASA's first space shuttle orbiter, arrived at Dryden Flight Research Center at Edwards Air Force Base in California.
Following eight captive-carry flights, which piggybacked off a modified Boeing 747 Shuttle Carrier Aircraft (SCA), Enterprise was finally ready for its first free-flight test.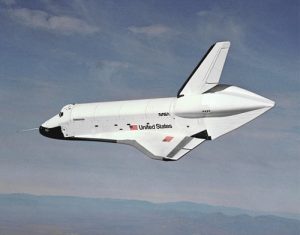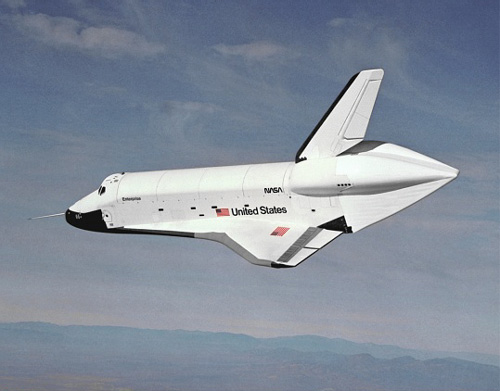 Onboard Enterprise were two NASA astronauts, Fred Haise and Gordon Fullerton. At 8 a.m. the SCA accelerated down the runway with Enterprise atop in piggyback formation. According to NASA, a crowd of roughly 65,000 visitors, 900 members of the press, and 2,000 special guests, had gathered to witness the historic event.
The release happened at 8:48 a.m., slightly behind schedule. The shuttle orbiter and the SCA separated and then Enterprise was flying on its own (see video below)! Haise and Fullerton glided Enterprise down to the lakebed runway and safely landed. The mission was a success!
Four additional free-flight tests were conducted that year.
Both the captive and free-flight tests proved that shuttle orbiters could fly atop the SCA in a piggyback formation, which was necessary to ferry shuttle orbiters from Dryden, where they would be landing, to Florida, where they would launch again.
Perhaps most importantly, these free-flight tests proved that shuttle orbiters could land upon their return from space.
Check out these five fast facts about this series of free-flight tests as we remember Enterprise's historic feat!
1. Two crews of two were selected for the free-flight tests.
NASA chose another crew, NASA astronauts Joe Engle and Richard Truly, to alternate with Haise and Fullerton for the free-flight tests. Haise and Fullerton flew onboard Enterprise for the first, third, and fifth free-flight tests. Engle and Truly flew the second and fourth flights.
2. The final free-flight landing uncovered a problem with the orbiter's flight control system.
According to NASA, during the fifth and final free-flight test, the orbiter experienced pilot-induced oscillation (PIO) upon touchdown (see clip below). It was later discovered that there was a time delay issue with the shuttle's flight control system, which was corrected through another research program.
3. NASA named the shuttle after a classic sci-fi television series spacecraft.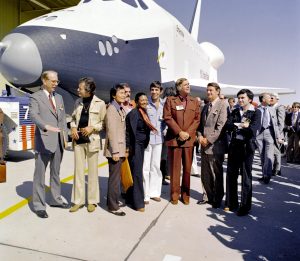 According to NASA, Enterprise was originally going to be named Constitution, in celebration of the U.S. Constitution's Bicentennial.
However, fans of the popular sci-fi TV show, "Star Trek" began a massive campaign to urge the White House to select Enterprise as the name. This was something that had never before been seen in space program history.
When Enterprise rolled out of the manufacturing facility, the cast of "Star Trek" was there to greet the shuttle (see image to the right), including actor Leonard Nimoy, who played Spock in the television series.
4. Enterprise went on a goodwill tour throughout Europe.
In 1983, Enterprise went on a goodwill tour throughout Europe. Between May 16 and June 12 that year, the orbiter traveled (bolted atop the SCA) to England, Germany, and Paris.
In 1984, it was even barged to New Orleans for the World's Fair!
Then in 1985, the Smithsonian Institution took ownership of Enterprise. The test shuttle was put on display for eight years at the Smithsonian National Air and Space Museum's Steven F. Udvar-Hazy Center.
In 2012, Enterprise made a big move to the Intrepid Sea, Air & Space museum in New York City where it remains today.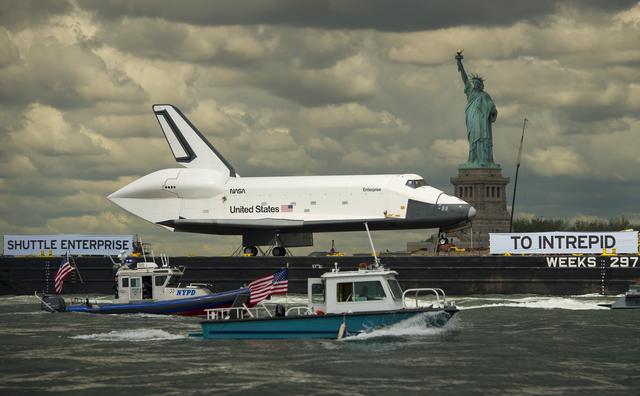 5. The spacecraft was not equipped to travel to the final frontier.
Enterprise may have been NASA's first shuttle orbiter, but it was constructed to be a test vehicle and was not built to travel into space.
During your next visit, be sure to stop by Independence Plaza, where you can explore the shuttle replica Independence and step inside the historic shuttle carrier aircraft NASA 905, the largest artifact from the Space Shuttle Program on display!