Last year, NASA named the first Artemis astronauts. The mission to return to the Moon begins with the first Artemis flight scheduled to launch later this year. We are featuring each of the Artemis astronauts to help you get to know these pioneering explorers. This week meet Stephanie Wilson.
Selected as a NASA astronaut in 1996, Wilson has logged over 42 days in space across three missions (STS-121, STS-120, STS-131). Learn more about Wilson with these three fast facts:
1. Wilson was the second African American woman to fly in space.
Mae Jemison became the first African American woman to fly in space for STS-47, which launched on Sept. 12, 1992. Wilson followed in her footsteps to become the second African American woman to fly in space 14 years after Jemison, when she launched aboard Discovery for STS-121 in 2006.
2. She has flown to the International Space Station (ISS) three times.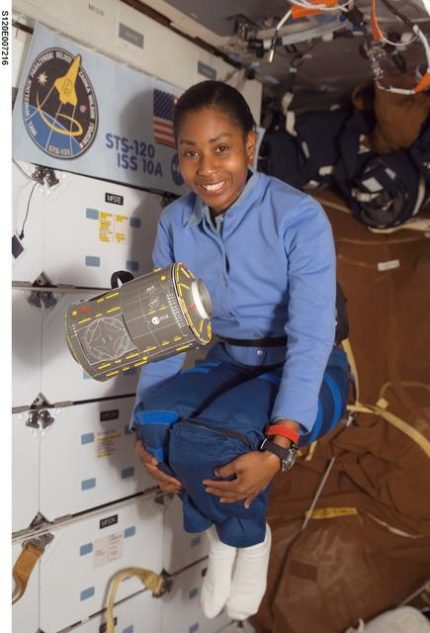 Wilson is no stranger to flying in space, nor is she unfamiliar with the ISS, having flown to the station for each of her three spaceflights.
During her first spaceflight, STS-121, Wilson served as a mission specialist for a 13-day Return to Flight test mission and assembly flight to the ISS. She operated the robotic arm to install the "Leonardo" Multi-Purpose Logistics Module and oversaw the transfer of over 15,000 pounds of equipment and supplies to the ISS.
Her second spaceflight, STS-120, delivered the "Harmony" module to the ISS, as well as an Expedition 16 crew member. Wilson served as the Flight Engineer, tasked with operating the robotic arm for vehicle inspection and spacewalk support.
Wilson's third flight, STS-131, was a resupply mission to the ISS. The Discovery crew transferred over 27,000 pounds of supplies, equipment, and scientific investigations to the station. Again, Wilson served as spacewalk support by operating the robotic arm.
3. She enjoys collecting stamps.
One of Wilson's interests is stamp collecting. She began collecting stamps when she was just a child.
"I mostly collect stamps off letters that I receive. I usually don't go out and purchase stamps but I like to be able to tell a story about a stamp: it came from this individual, on this card," Wilson told collectSPACE in an interview before her first spaceflight.
While Wilson would have loved to fly one of her stamps in space, she explained it was not permitted due to federal regulations which prohibit certain items from being included in an astronaut's personal preference kit (PPK).
However, according to collectSPACE, she did bring along a regimental flag flown by the Buffalo Soldiers for the Buffalo Soldier Museum in Houston, Texas.
Continue to celebrate Black History Month by taking our Black History Month trivia quizzes or read about 3 African American space pioneers who significantly contributed to America's space program!