Jose David Ortiz, a mechanical engineer with Intuitive Machines, a diversified space company focused on space exploration.
A fascination for space that all started with a trip to Space Center Houston only grew for this Houston native.
"I remember visiting the center with my family and classmates as a kid and watching videos about the solar system which just sparked my interest in space," said Ortiz. "It wasn't until my late high school years that I realized working in a STEM (Science, Technology, Engineering, and Mathematics) field could be a possibility for me."
Soon after his high school graduation from Victory Early College High School, Ortiz enrolled at Lone Star Community College to complete his Associate of Science and gain the real-world experience he knew was possible.
From here, the first-generation college student was embarking on those opportunities thanks to the recommendations of his professor, Jaime L. Turner to apply to NASA Community College of Aerospace Scholars (NCAS) – an internship program by NASA and Minority University Research and Education Project (MUREP).
The three-mission program challenges students to design and build knowledge and skills by focusing on NASA's mission goals, collaboration and career pathways.
The internship requires applicants to submit an online portion of design work that undergoes consideration and has the opportunity to visit any NASA site for their experience. Here, Ortiz developed his confidence in design, teamwork and robotics skills at Stennis Mississippi Space Center.
"I met and worked with a great group of people making designs on the fly as a design engineer and by the end of the day, we all bonded by this passion for design and engineering," said Ortiz. "It was here that I gained my first authentic NASA STEM experience and wanted to keep going."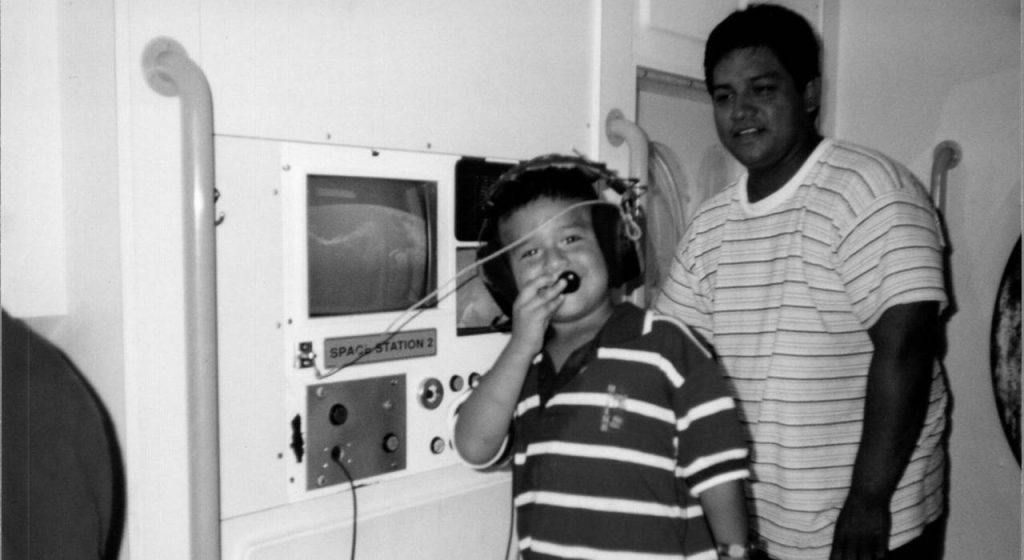 Throughout other internship programs and furthering his education at the University of Houston Clear Lake (UH-CL), Ortiz gained a multitude of STEM-related skills through NASA's Commercial Lunar Payload Services (CLPS) initiative.
NASA's CLPS initiative contracts with American companies to deliver scientific exploration and technology payloads to the Moon's surface and orbit. These companies of varying sizes will bid on delivering payloads for NASA, including payload integration and operations that launch from Earth and land on the surface of the Moon; all a part of the agency's broader goal of returning humans to the Moon through Artemis.
"My assignment was dispatched to a vendor, and I gained hands-on experience as a mechanical engineer intern where I designed, rendered, composited and commissioned projects," he said. "And I just fell in love with the work because it was the best of all worlds."
That vendor was Intuitive Machines, which Ortiz gained full-time employment after graduating with a Bachelor of Science in Mechanical Engineering from UH-CL in spring 2022.
"My advice to others is to pass along the knowledge because I wouldn't be here today if I had not allowed myself to take action on the opportunities and advice that were offered," said Ortiz. "If you can dream it, you can achieve it."
"Querer es poder," words his mother passed along to him, reminding Ortiz that all possibilities are achievable.
At 29 years old, he is a "Jack of all trades, master of none" he says about his skills. Working within the integration, assembly and testing department at Intuitive Machines, he designs and manufactures parts that will be assembled onto upcoming lunar missions and quickly adapts when renderings do not go as planned.
"Engineering is a very diverse field of work, and it is our responsibility to troubleshoot and ensure that each assembly is installed according to our procedures," said Ortiz. "I also cross-collaborate with different departments like avionics and propulsion by assembling parts for them. In my expertise, we verify and help design components in-house which has helped me become that Jack of all trades."
Today, Intuitive Machines' Nova-C Lunar Lander replica sits on display in the center's Main Plaza. The uncrewed lander is a key part of NASA's Artemis lunar exploration efforts set to launch in June 2023 on the Moon's south pole region before sending crewed missions.
When Ortiz is not designing lunar spacecraft, he is actively pursuing his master's in systems engineering at UH-CL as a part-time graduate assistant.
---