On March 16, 1926, Robert Goddard set out to do the impossible. He became the first person to launch a liquid-fuel rocket 93 years ago.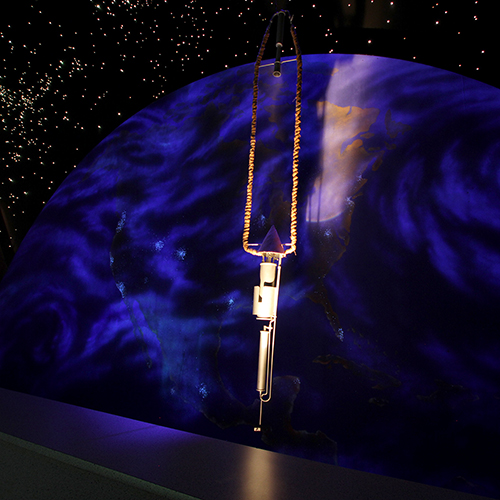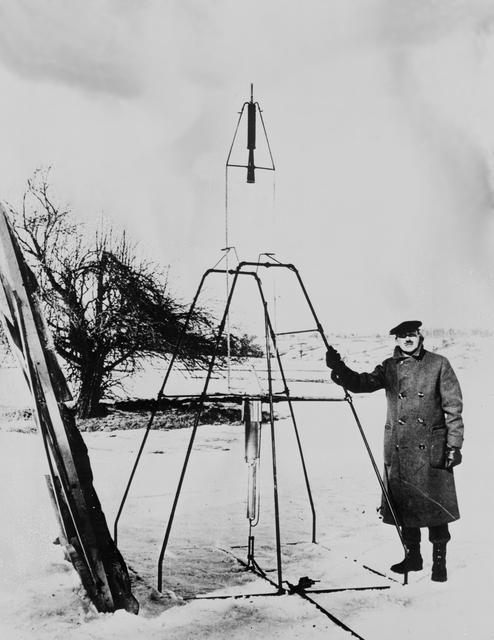 Igniting a dream
Although liquid-fuel rockets are mainstream today, in Goddard's time they were a brand-new concept. Solid materials, namely gunpowder, were used for rocket launches prior to Goddard's discovery.
Goddard knew that gunpowder rockets were inefficient. When he discovered that utilizing a mix of liquid fuels would allow his rocket to achieve more acceleration, he adopted a liquid-fuel approach.
He designed this new rocket to have the combustion chamber and nozzle at the top of a frame made up of two vertical tubes, which would then carry the liquid fuel from the tanks at the bottom to ignite the rocket.
It was a chilly day on March 16, 1926 when Goddard tested his new design.
The "rickety contraption" sat in a snowy field in Auburn, Massachusetts, waiting to blast off from the icy Earth. The rocket stood nearly 10 feet tall and was constructed from thin pipes. For the first time in history, a rocket would be propelled by liquid fuel, a combination of liquid oxygen and gasoline.
Gathered to watch the historic launch, were Goddard, his wife, Esther, and some of his close colleagues from Clark University. They would be the only witnesses to observe the launch that would rock the world of rocket science forever.
It was on that day that Goddard saw his creation lift off, becoming the first liquid-propelled rocket to fly in the sky. Although the rocket only flew for 2.5 seconds, and reached an altitude of only 41 feet, it proved that liquid fuel could be used to propel rockets, and at 60 mph, it flew much faster than other rockets at the time. The discovery was revolutionary.
However, the event drew little attention. According to the Smithsonian National Air and Space Museum, it wasn't even covered in the local newspapers.
It wasn't until the Smithsonian, which had provided funding for Goddard's experiments since 1917, published his short exposition titled, A Method of Reaching Extreme Altitudes, that he started drawing attention. Unfortunately, it wasn't all good.
He never doubted himself
Perhaps one of the most difficult challenges Goddard faced was the press. Not only did critics not believe in Goddard's mission, they mocked him.
One of Goddard's proposals was seen as absolutely absurd. He believed humans could travel to the moon aboard a rocket with flash powder. It was this daring dream that made him famous almost overnight. The world quickly learned of the rocket scientist who proposed interplanetary space travel.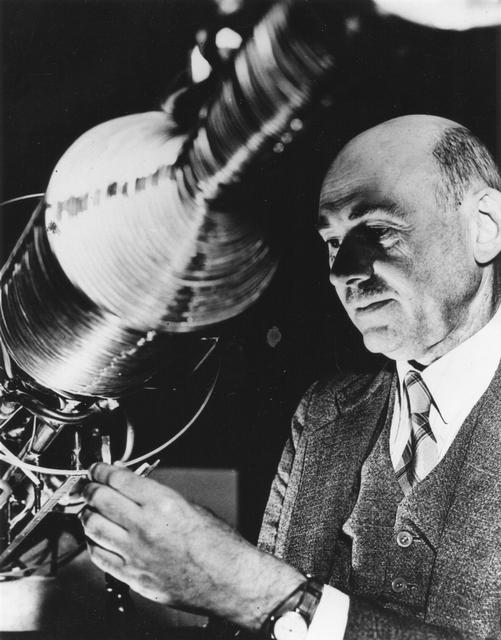 According to the History Channel, The New York Times was not impressed. In fact, the paper dismissed Goddard. In a 1920 editorial, the Times wrote that Goddard, "seems to lack the knowledge ladled out daily in high schools." They didn't think that thrust would work in space.
Goddard, who was a modest man that had funded much of his own research in the beginning, didn't let the bad press interfere with his work. Instead, he held steadfast to his ideas and beliefs, stating, "Every vision is a joke until the first man accomplishes it; once realized, it becomes commonplace."
Goddard proved to be ahead of his time. The New York Times regretfully printed a correction to its 1920s editorial section in July 1969, right as Apollo 11 set off on its historic mission to the moon.
Sadly, Goddard died long before the popular news source issued an apology for their miscalculation. He held 214 patents in rocketry at the time of his death in 1945.
The father of modern rocketry
After his historic launch, Goddard went on to break six altitude records with his next 34 rocket flights, paving the way for the future of the space program. Every spacecraft and liquid-fueled rocket engines today can trace their technical heritage to this early rocket and to Goddard's ingenuity.
According to NASA, Goddard is regarded as the father of modern rocketry, for laying, "the essential foundations of practical rocket technology." Space.com adds that, "His achievement is considered as significant as the Wright Brothers' first flight."
Watch the clip by SciShow Space below to learn more about Goddard and his ideas and innovations that still serve as the foundation for modern rocketry.
The rocket featured in Space Center Houston's Starship Gallery is an identical replica of the original rocket Goddard launched on March 16, 1926. Goddard's contributions were later honored by NASA in the naming of the Goddard Space Flight Center in Greenbelt, Maryland.