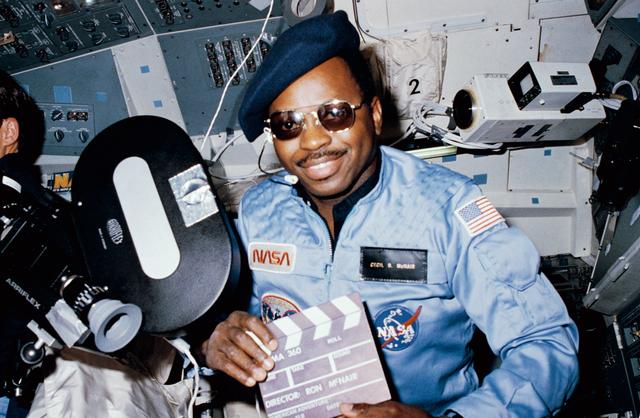 In honor of Black History month, today's Astronaut Friday post is dedicated to remembering a truly remarkable space pioneer, astronaut Ronald McNair. In 1984, McNair became the second African American in space aboard Challenger for STS 41-B, just months after Guion Bluford had become the first aboard STS-8. An accomplished physicist and astronaut, McNair logged 191 total hours in space with his first mission, and the crew achieved many firsts. STS 41-B was the first mission to land at the Kennedy Space Center in Florida, the first flight of the Manned Maneuvering Unit (MMU) and the first use of the Canadarm, which McNair operated.
However, it was McNair's second mission (STS 51-L), again aboard Challenger, that would end up being his last. On Jan. 28, 1986, Challenger lifted off with a crew of seven. Just 73 seconds after launch, it exploded, killing the entire crew. The horrific accident shook the world and halted NASA's space flights for some time. In 2004, McNair and the rest of the Challenger crew were posthumously awarded the Congressional Space Medal of Honor by President George W. Bush.
While McNair lost his life, he is remembered for his resilient spirit and "go-getter" attitude. Originally inspired by Sputnik and Star Trek, McNair pushed past obstacles to follow and realize his dreams. McNair is warmly regarded as an outstanding student, scholar, and space traveler. In honor of McNair's extraordinary life, we have gathered some facts about the astronaut.
1. He was the first astronaut to play the saxophone in orbit
McNair was passionate about music. One of his high school teachers, Edward Cooper, remembers giving McNair an old saxophone for the band. It was years later when McNair repaid the favor by giving Cooper the reed that he used to play the first saxophone in orbit.
McNair didn't want to stop there with the jazz jam sessions in space. According to an MIT article, he had plans to play a sax solo concert during his second mission for composer Jean-Michel Jarre's Rendez-Vous album, complete with a live feed tie in with the composer himself, but tragically, he never got the chance.
In his honor, Jean-Michel Jarre dedicated a song off the album to McNair, titled "Ron's Piece." Take a listen to the full composition here, which features a touching saxophone tribute throughout the space-like track, and catch a preview below.
2. He was a 5th degree black belt 
McNair was a well-rounded individual, balancing his time between his studies and sports.
His NASA biography lists out some of his favorites, like boxing, football, running and karate. However, it was the latter that McNair particularly excelled at. In fact, McNair won five regional championships during his athletic career. In 1976, McNair also snagged the AAU Karate Gold Medal, and eventually became a 5th degree black belt. McNair even co-wrote a study analyzing the physics of karate kicks.
His tact for balancing his studies and sports made him an inspiring figure. One person who looked up to the astronaut was Neil deGrasse Tyson, who opened up about McNair's influence for a New York Daily News article, saying, "An astronaut who was also a black belt in karate served as a kind of affirmation that an athletic hobby need not interfere with academic pursuits."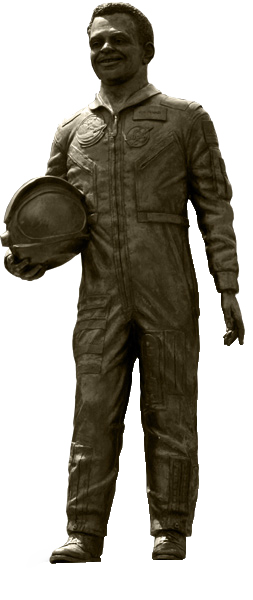 3. His journey to space began with a small act of courage in his hometown public library
It was a different time back in 1959. McNair's brother Carl has often told of an interesting story about Ron when he was 9 years old and living in a small South Carolina town during the civil rights movement.
McNair walked to a public library in town to check out books, as he was an avid reader. However, the library was in a segregated part of town. This did not bother McNair, but it did bother some of the people around him. The librarian told McNair that he could not check out books from the library. McNair refused to leave without the books so the librarian called his mother and the local police.
When the police arrived, much to everyone's surprise, they simply told the librarian to give McNair the books. The librarian reluctantly checked out the books and McNair went on his way.
He was an outstanding student who worked hard to achieve his goals. In high school, McNair graduated with honors and was named valedictorian of his class. He earned his B.S. in physics in 1971 from North Carolina A&T State University and his Ph.D. (also in Physics) from MIT just five years later.
The library where he displayed such courage has since been renamed in McNair's memory. There are plans on expanding it into a science and technology museum. McNair is buried at Ronald E. McNair Memorial Park, next to the old library he visited as a kid.