Last year, NASA named the first Artemis astronauts. The mission to return to the Moon begins with the first Artemis flight scheduled to launch later this year. We are featuring each of the Artemis astronauts to help you get to know these pioneering explorers. This week meet Jessica Watkins.
Selected as a NASA astronaut in 2017, Watkins has completed her Astronaut Candidate training and is currently awaiting a flight assignment. Learn more about Watkins with these three fast facts:
1. She is a former NASA intern who supported the Phoenix Mars Lander mission.
Watkins is no stranger to NASA. In fact, she has interned at NASA's Ames Research Center and Jet Propulsion Laboratory (JPL).
As an undergraduate intern at NASA's Ames Research Center, she conducted research on Mars soil simulant in support of the Phoenix Mars Lander mission.
Then, as a graduate, she interned at JPL, assisting in the analysis of near-earth asteroids, and in support of the Curiosity mission, as well as aiding in system design testing for the current Mars 2020 mission.
2. Watkins is a geologist who has participated in multiple NASA analog missions.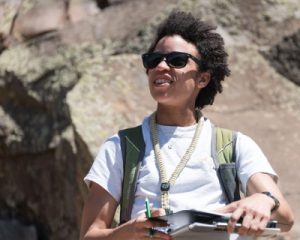 Watkins is a geologist, having earned a Bachelor of Science in Geological and Environmental Sciences from Stanford University, and her Doctorate in Geology from the University of California, Los Angeles (UCLA).
In 2009, our featured Artemis astronaut was the chief geologist for a NASA analog mission, or field test, at the Mars Desert Research Station. Two years later, Watkins served as a science operations team member during a NASA Desert Research and Technology Studies analog mission.
She has also spent time in the Aquarius underwater habitat as an aquanaut when she participated in the NASA Extreme Environment Mission Operations (NEEMO) 23 mission in 2019!
View this post on Instagram
3. She played for the U.S. Women's Eagles National Sevens Rugby team.
Watkins enjoys sports, including basketball, soccer, skiing, and rugby.
Her Caltech bio lists that Watkins was a member of her previous college's club soccer and basketball teams, and played on Stanford's Women's Rugby team, which claimed the Division I National Championship title in 2008.
In 2008 and 2010, she was named First Team Collegiate Rugby All-America. She was also a member of the U.S. Women's Eagles National Sevens Rugby team, where she represented the U.S. in many international tournaments, including the inaugural 2009 Women's Sevens Rugby World Cup in Dubai, in which the team placed third.
She also had the unique opportunity to train alongside the Eagles in 2014 as a resident at the U.S. Olympic Training Center in California while the team prepared for rugby's debut in the 2016 Summer Olympic Games.
Watkins doesn't just take an interest in playing sports, she also enjoys coaching, and served as a volunteer assistant coach for the Caltech Women's Basketball team.
Continue to celebrate Black History Month by taking our Black History Month trivia quizzes or read about 3 African American space pioneers who significantly contributed to America's space program!