Last year, NASA named the first Artemis astronauts. The mission to return to the Moon begins with the first Artemis flight scheduled to launch later this year. We are featuring each of the Artemis astronauts to help you get to know these pioneering explorers. This week meet Anne McClain.
Selected as an astronaut by NASA in 2013, McClain flew into space for Expedition 58/59 in 2018, where she and the crew conducted hundreds of experiments, including editing DNA for the first time in space. To date, she has logged a total of 204 days in space and has accumulated 13 hours and 8 minutes of spacewalking time during her two career spacewalks.
Learn more about McClain with these three fast facts:
1. Her love of the hit blockbuster film Top Gun inspired her to become an Army pilot.
In a video shared by Space.com, McClain shares that she was a big fan of the movie Top Gun. In fact, she says she watched it so much one summer (up to three times a day!), that her brother broke the tape to get her to stop watching the film!
McClain said she was devastated, but it was that incident that ultimately inspired her to become a military pilot, where she eventually logged over 2,000 flight hours in 20 different aircraft.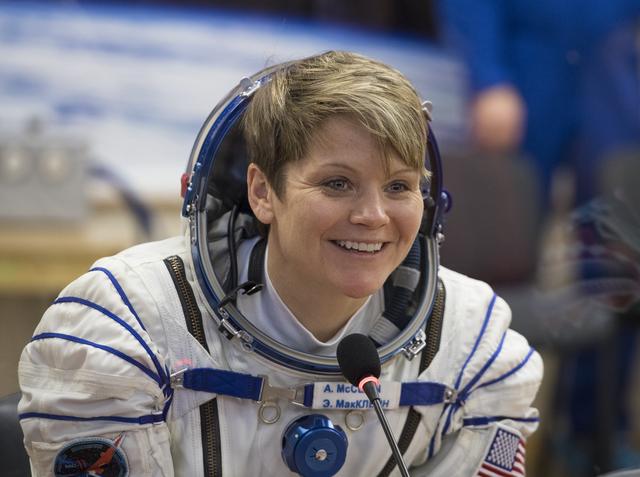 2. She thought the most uncomfortable part about her spaceflight was the return home.
There are quite a few aspects to space travel that can be uncomfortable, like head colds (think Apollo 7), a dulled sense of taste, and more.
But for McClain, it was the return trip home that was most uncomfortable.
"The most uncomfortable thing about going to space is coming home," McClain told The Seattle Times in a 2019 interview. She added, "It's a little strange to get used to gravity again."
Despite her discomfort, McClain shared that it was fun to see things from a different perspective.
3. She was originally going to be part of the first all-woman spacewalk.
McClain was initially slated to conduct the first all-woman spacewalk with fellow NASA astronaut and Expedition 59 crew member Christina Koch during Women's History Month on March 29, 2019.
According to NASA, it was at the recommendation of McClain that the agency changed assignments, to protect the crew's safety and keep on schedule with the mission.
However, this change generated many questions surrounding the decision, causing NASA to respond with a more in-depth explanation of the situation (view NASA's response here).
McClain also provided an explanation on the matter during an on-station interview with ABC News in April 2019 (see below).
While she didn't take part in the first all-woman spacewalk, McClain did get to conduct two spacewalks during her stay on station. The first all-woman spacewalk took place later that year (Oct. 18, 2019), conducted by NASA astronauts Christina Koch and Jessica Meir.
Want to learn more about Artemis astronaut Anne McClain? Click here.