Space Center Houston Hosts Annual NASA HUNCH Culinary Challenge, April 20th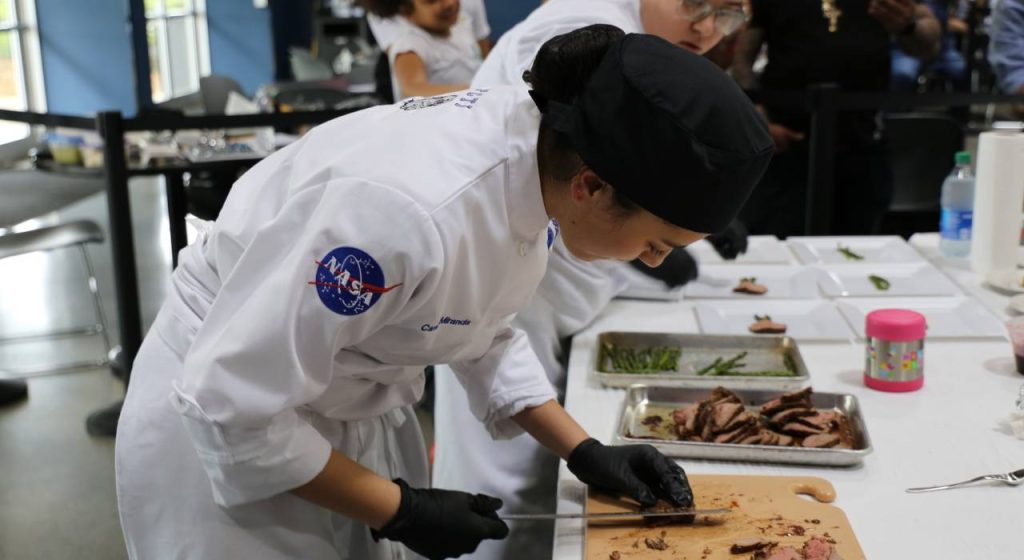 HUNCH Culinary Challenge participant prepares an "Out of this World" dish comprised of a 6 oz filet mignon and sides at Space Center Houston's Food Lab in April 2022.  
HOUSTON, TX (APRIL 19, 2023) – Students from 33 different high schools across the nation are whipping up ingredients for NASA's annual HUNCH (High Schools United with NASA to Create Hardware) Astronaut Culinary Challenge.
On April 20, Space Center Houston will host the final competition, where visitors can cheer on 10 student groups in the finalists round who will compete in real-time as they craft meals that will eventually be served to astronauts working on the International Space Station (ISS).
The NASA HUNCH mission is to empower and inspire students through a Project Based Learning program where high school students learn 21st-century skills and can launch their careers through the participation in the design and fabrication of real-world valued products for NASA. There are seven HUNCH programs that challenge students to create solutions for NASA, including design, software, hardware, biomedical science and culinary, among others.
This year's culinary theme is a hearty ethnic soup or stew dish that will be evaluated by celebrity guest judges at Space Center Houston including Joshua Weissman, Austin-based chef and YouTube content creator accumulating more than 7 million followers; Evelyn Garcia, Houston-based chef and Finalist of Bravo TV's Top Chef Season 19; Chris Williams, Houston-based chef and 2022 James Beard Award Finalist for Outstanding Restauranteur; and Dr. Anne McBride, vice president of programs for The James Beard Foundation.
The one-day challenge takes place at Space Center Houston's Food Lab after students go through rounds of preliminary culinary competitions in their hometowns. The groups with the highest score are invited to Space Center Houston for the competition.
"We are honored to host NASA HUNCH's annual culinary finalists as they showcase their culinary skills and apply the science of serving food to actual astronauts in space," said William T. Harris, president and CEO of Space Center Houston. "Programs like HUNCH help these students develop future real-life skills to launch their own careers, learn by doing, and contribute to long-term missions beyond our planet with tasty and nutritious food."
The culinary challenge requires student groups to conduct and submit research proposals about their intended recipe and nutritional findings to help sustain astronauts' health in microgravity.
The winning entree will be served aboard the ISS where current astronauts live and work in space. Before the dish makes its way to space, it is processed by the NASA Johnson Space Center Food Lab where all culinary creations account for NASA's food processing procedure and nutritional requirements.
This year's HUNCH competition will serve as inspiration for an upcoming Space Center Houston Thought Leader Series event featuring space cuisines experts and scientists.
Top 10 HUNCH Culinary Challenge Finalists
Northeast area Career Tech Jonesboro- Arkansas – Hearty Minestrone Soup
Milton Hershey School- Pennsylvania- Indian Vegetable Soup
GRCC Secchia- Michigan – Austrian Style Steak Soup (Wiener Gulashsuppe)
Brazoswood HS- Texas – Roasted Red pepper tomato soup
Phoebus HS – Virginia – Seafood Lentil Stew
Landstown HS – Virginia – Three Sisters Stew
Wekiva HS – Florida – Chicken and Shrimp Jambalaya
Dakota HS – Michigan – Red Lentil Curry Soup
Milby HS – Texas – Chupe de Quinoa (Peruvian soup)
Tri County Career Center – Ohio – Chicken Tinga Stew
For more information visit HUNCH Culinary Challenge Finals – Space Center Houston and NASA HUNCH.
###
About Space Center Houston
Space Center Houston's shared purpose is to bring people and space closer together. Over 1.1 million visitors and more than 250,000 students and educators visit each year to connect with the significance of space exploration to pursue a path in STEM or follow along as incredible feats of human spaceflight continue to make new discoveries. Space Center Houston is owned by the Manned Space Flight Education 501(c)3 nonprofit organization and generates an annual $118M economic impact to the Greater Houston area. Space Center Houston is a Smithsonian Affiliate, the Official Visitor Center of NASA Johnson Space Center and a Certified Autism Center. Learn more at spacecenter.org.
About NASA HUNCH
16 years ago, NASA HUNCH (High Schools United with NASA to Create Hardware) was founded as a means of giving high school students new educational experiences by producing hardware training items for the International Space Station. Today, the program has grown from the first 3 schools in 2003 to well over 200 schools all across the country participating in a wide variety of projects, ranging from industrial sewing to an astronaut Culinary Challenge.
We mainly work to improve the lives of the International Space Station crew from dayto-day personal items or tools to updating parts of the station itself from their original designs. HUNCH fills a unique niche for the International Space Station, as well as providing high quality training and flight parts to other NASA programs and partners, by covering a wide range of topics. Through HUNCH, students have a unique opportunity to learn skills and make a real-world contribution to NASA's space missions. Learn more at nasahunch.com.
MEDIA CONTACTS:
Illiana Luna
iluna@spacecenter.org
+1 (281) 244-2190
Space Center Houston
Lou Hammond Group
spacecenterpr@louhammond.com
+1 (713) 301-4577