Students' Winning Dish to be Prepped by NASA for Spaceflight
The annual NASA HUNCH or High Schools United with NASA to Create Hardware Culinary Challenge announces its top three finalist winners from the challenge's event held Thursday, April 20 at Space Center Houston.
This year's culinary-themed dish is a hearty ethnic soup or stew that can help sustain astronauts' health in microgravity.
After a careful review of the student groups' submissions; the top three winners of this year's HUNCH Culinary Challenge are Virginia's Landstown High School, Three Sisters Stew, Florida's Wekiva High School Chicken and Shrimp Jambalaya and Texas' Brazoswood High School, Roasted Red Pepper Tomato soup.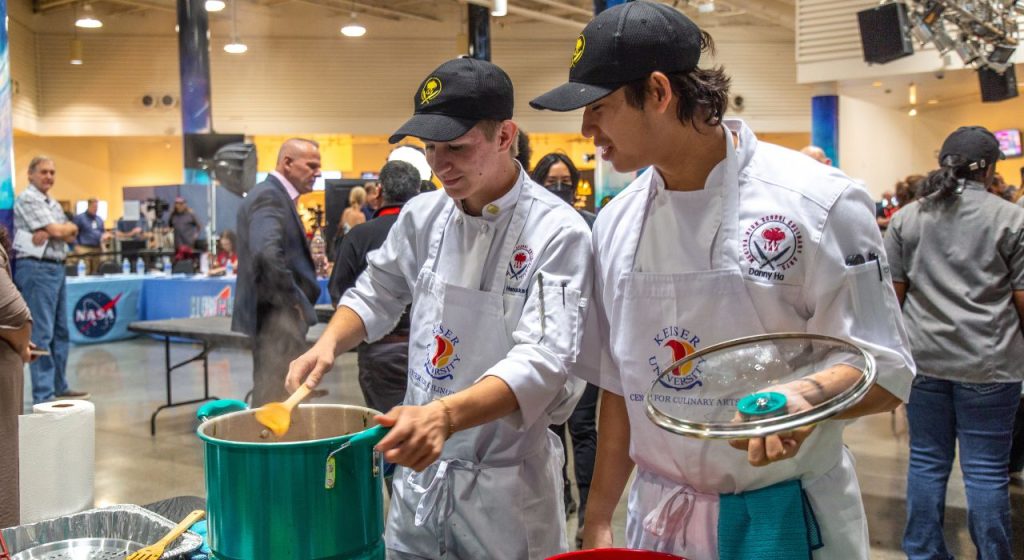 Students from 33 different high schools across the nation go through preliminary rounds in their hometowns and the top 10 finalist teams are invited to compete in a one-day final challenge at Space Center Houston. From here, the students' research papers, entrée presentation and a 2-minute video are reviewed by judges. The top team then has their dish processed by the Johnson Space Center Food Systems Laboratory for space flight.   
"The NASA HUNCH Culinary Challenge gives students the opportunity to learn how to create great tasting food that meets tight nutritional guidelines for astronauts," said Allison Westover, Director of HUNCH Culinary Challenge. "They also learn about the changes in astronaut physiology and food science, which drives the nutritional requirements needed to sustain astronauts' health in space. Students also have the opportunity to receive scholarships that could pave the way for an exciting future in culinary, food science and dietetics."
All 10 participant groups are awarded from the American Culinary Federation (ACF) a $300 gift card to help with supplies and food. First place will receive $2,000 for the winning school's culinary science program.
From Sullivan University, the top three winners are to receive $15,000 for first place, $10,000 for culinary/baking programs in second place with an additional $8,000 for all other programs and $5,000 for third place.
NASA's HUNCH mission offers seven programs designed to empower and inspire students through project-based learning where high school students learn 21st-century skills and can launch their careers through participation in the design and fabrication of real-world valued products for NASA.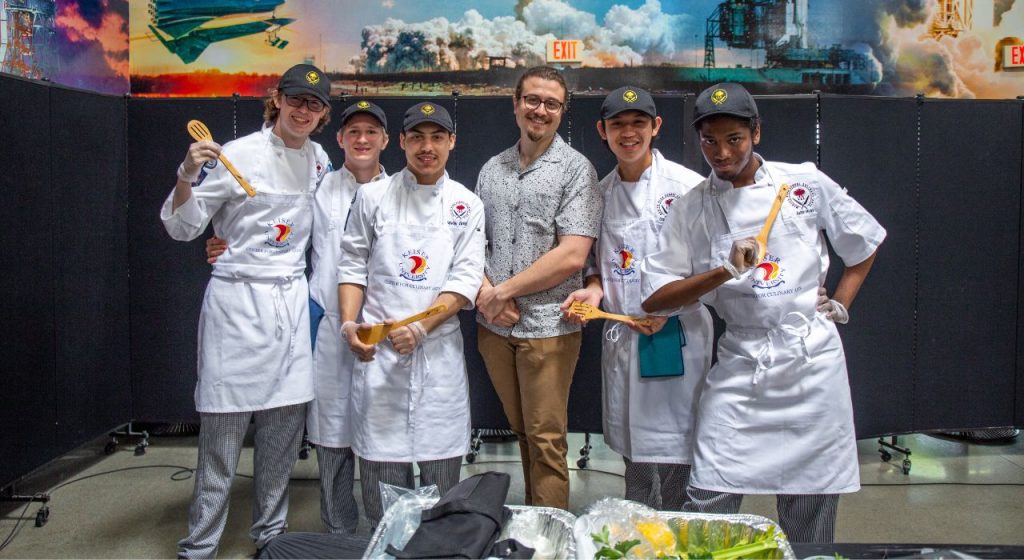 Thursday's event invited NASA personnel including NASA astronaut Jessica Watkins and guest celebrity chefs Joshua Weissman, Austin-based chef and YouTube content creator accumulating more than 7 million followers; Evelyn Garcia, Houston-based chef and Finalist of Bravo TV's Top Chef Season 19; Chris Williams, Houston-based chef and 2022 James Beard Award Finalist for Outstanding Restauranteur; and Dr. Anne McBride, vice president of programs for The James Beard Foundation to evaluate students' dishes.
The winning dish to be announced will board the ISS where it is processed by NASA Johnson Space Center on an upcoming mission for working astronauts living aboard.
The winning group will also receive an all-access pass to the ACF National Convention in New Orleans this July 16-19 with meals for each student and one instructor.
---