Explore the cosmos and network with young professionals during Space Center Houston's Starlight Social 5:30 – 7:30 p.m. April 18. Mingle with other space enthusiasts in our social learning environment while enjoying drinks, music and dancing.
Get your ticket online and save! Tickets online are $10.95. Tickets at the door are $12.95. Guests must be 21 or older with valid ID.
Buy tickets
Explore real space food made for astronauts aboard the International Space Station. Discover what kinds of food are typically served in space and get an up-close look at dehydrated asparagus, fried rice, au gratin potatoes, and more. Learn how astronaut season their food and how they drink beverages in microgravity.
After learning about space food, grab a bite to eat and enjoy drinks, music, and dancing. Food and beverages are available for purchase.
Make a memory by starlight. Discover space science and explore the cosmos at Starlight Social April 18.
Buy tickets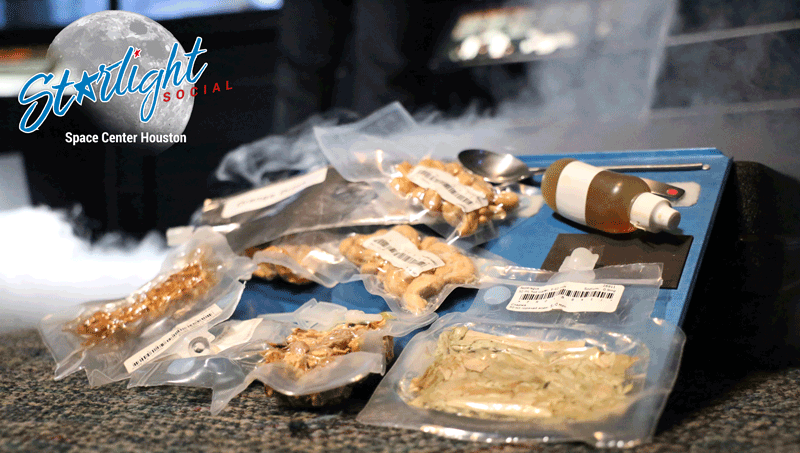 Starlight Social 2019 Schedule
Feb. 7 – Deep Space Exploration
April 18 – Space Food
June 27 – Apollo: Then and Now
Aug. 22 – Mysteries in Space
Oct. 27 – Space on Tap
Dec. 5 – Holidays in Space
For the latest news and information about the next Starlight Social, follow Space Center Houston on social media or sign up for our email communications below.